---
This page shares some of the love and experiences I have for General Aviation. To break the surly bonds of earth in either your own airplane, or one you can rent from an FBO, is a cherished freedom that people can enjoy. This webpage is dedicated to helping folks understand the joy of General Aviation and to help keep it vibrant for future generations to enjoy!
Famed aviator Charles Lindbergh summed up my views on aviation with this famous quotation:
I began to feel that I lived on a higher plane than the skeptics of the ground; one that was richer because of its very association with the element of danger they dreaded, because it was freer of the earth to which they were bound. In flying, I tasted a wine of the gods of which they could know nothing. Who valued life more highly, the aviators who spent it on the art they loved, or these misers who doled it out like pennies through their antlike days? I decided that if I could fly for ten years before I was killed in a crash, it would be a worthwhile trade for an ordinary life time.
- Charles A. Lindbergh, 'The Spirit of St. Louis.'
The beauty of General Aviation today is that it retains all of the "wine of the gods" exhilaration Lindbergh refers to. However, aviation today is vastly safer than it was in the Roaring Twenties when Lindbergh practiced the art.
The key point is that becoming a pilot is not a dream. It is within the reach of people of all walks of life and income levels. All that is really needed is the desire.
To ensure the future of General Aviation, I ask that you read through the Aircraft Owners and Pilots Association (AOPA) website. This organization is dedicated to making aviation as safe, enjoyable, and freely available as it can be. And, it can be a most valuable resource to launching your own piloting career for personal fun, augmenting your business, or achieving a professional flying career.
Aircraft Owners and Pilots Association
Ultimately, it comes down to the basic question: "Why Fly?" The answer is one summed up in this treatise:
---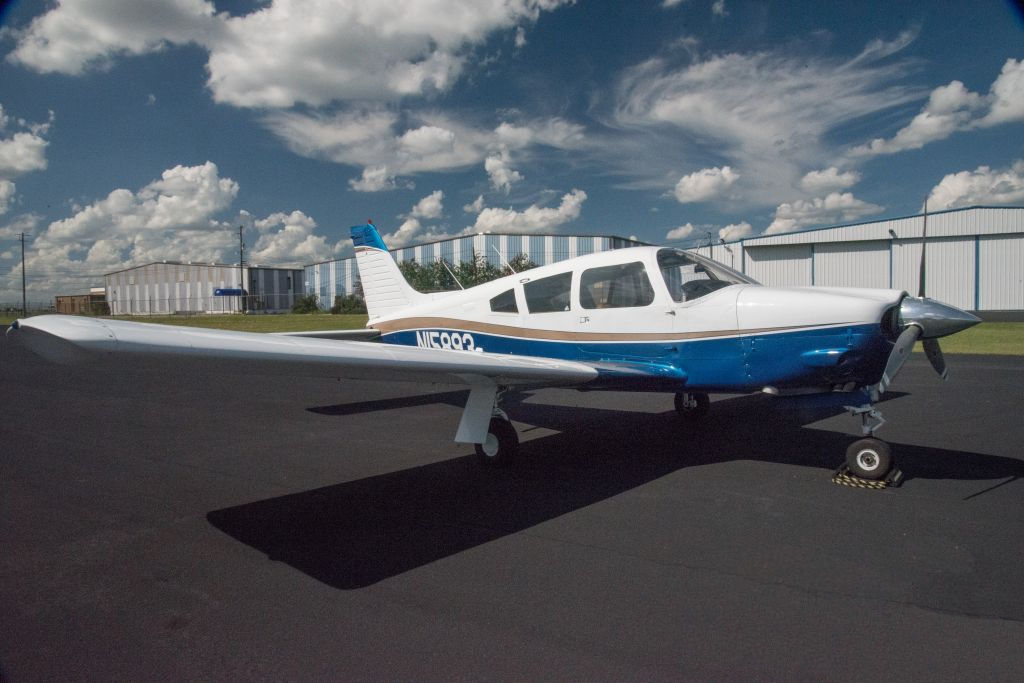 My 1973 Piper PA-28R-200 N15893
The itch never seems to scratch! I have decided again to become an aircraft owner by purchasing this 1973 Piper Arrow II (PA-28R-200). This four-seat aircraft is a nice bridge between the economy of a Cessna Skyhawk and the performance of the Cessna 310R. I have also rejoined Angel Flight to continue the mission of charity, plus also have a ready means to remain in touch with our children, as our oldest (Ken) is already living on his own, and our youngest (Michael) is a junior at Kennesaw State University, and will soon be leaving the nest as well.
Fall Photos over North Carolina
Video of N15893 Day Landing @ KCTJ
Video of N15893 Night Landing @ KCTJ
---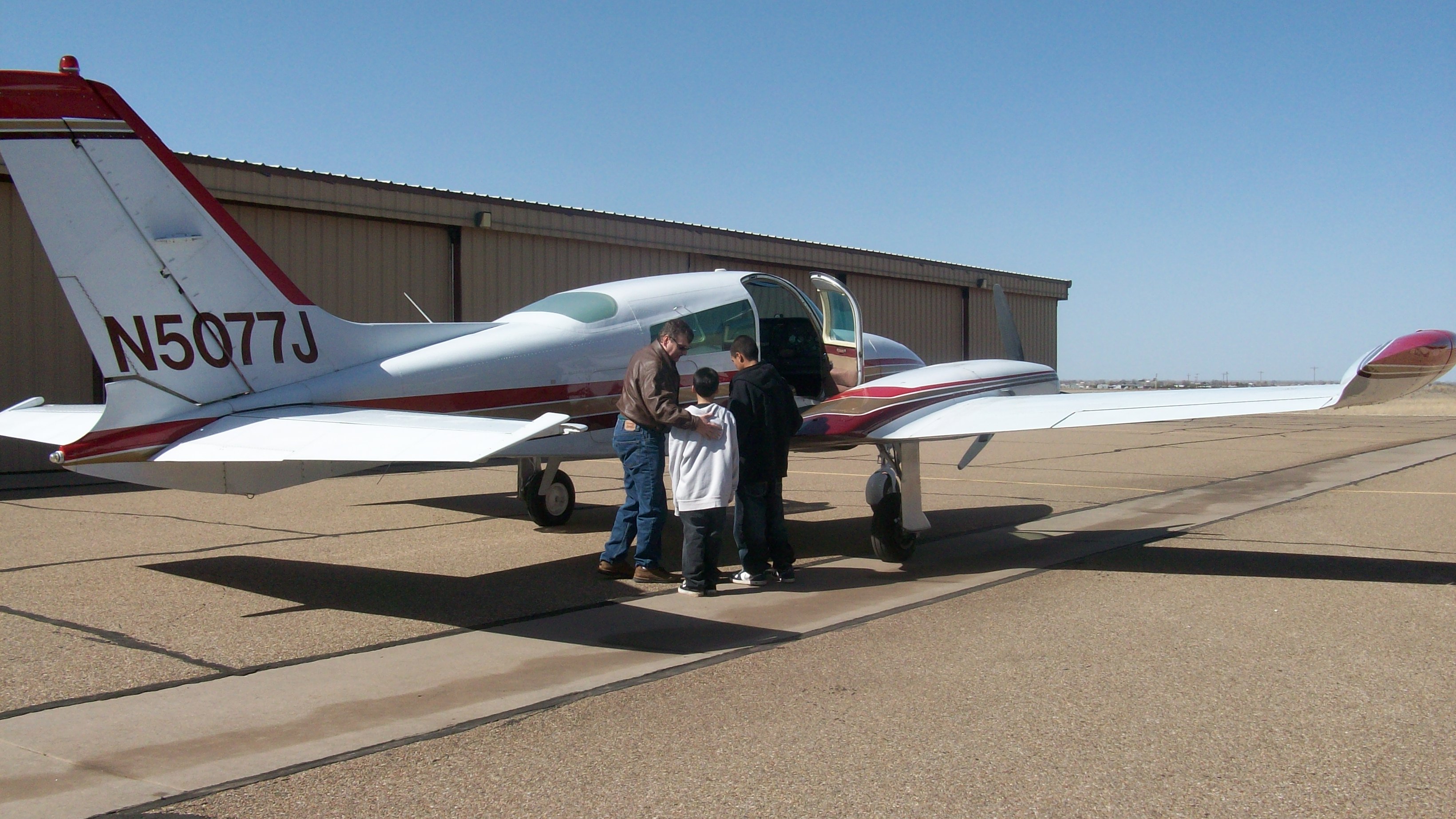 My children and I boarding N5077J before flight (click to enlarge)
On 22 February 2010, I was able to realize a long time dream of mine and purchased a high performance multi-engine aircraft. Best of all, it is the aircraft I have considered the best piston twin ever designed, the Cessna 310R. The aircraft served well for over five years, but when we decided to settle back to our Atlanta home, we also decided to sell both the 310R and my Skyhawk.
---
The Grace Flight support didn't take long to materialize as I was able to fly a patient non-stop from El Paso, TX to Houston, TX in only 3 hours and 10 minutes of flight!
N5077J Grace Flight Mission photos
---
The family went on a Christmas vacation to visit our folks in North Carolina in 2010. This slideshow features the eight inches of snow on Christmas Day! It also has some photos of family as well as some in flight photos my wife took flying to North Carolina and on the return flight home.
---
We got about a foot of snow across the Northeast area of New Mexico on 28 January 2010. On Sunday, 31 January, took my two sons flying over the area of Portales, Tucumcari, and Clovis, New Mexico.
---
One of the coolest things is owning an aircraft and getting a chance to renovate it either on the outside or inside. After several years of ownership, my aircraft finally got an interior renovation completed on 7 August 2009. Click the link to check out the photos!
---
From July 1st to 7th, 2009, and for the first time in about 1.5 years, I was able to take a vacation! I flew my two boys from our home in Portales, NM to my family in North Carolina. The high point was a trip flown with the boys and my father to Gettysburg National Battlefield Park. Fittingly, the trip was conducted on July 3, 2009 -- the 146th anniversary of this pivotal point in American history. There is a really nice VFR airport at Gettysburg (W20) so it makes for a very convenient flight.
I've seen many photos recent and historic of the area, but having seen it in person gives it true magnitude. Little Round Top was a humbling site. Until you see it firsthand, one cannot have a true appreciation for the battlefield conditions.
The second link features some family photos plus a few in flight shots of the NC State University campus, including the highly upgraded Carter-Finley football Stadium and the RBC Center where the Carolina Hurricanes and NC State basketball team play.
---
This is a link for a slideshow flown over Monument Valley and Lake Powell in southern Utah. Monument Valley achieved fame when director/producer John Ford chose the site to film his classic movie "Stagecoach" staring John Wayne. Even as the photos are impressive, they cannot do this place justice. It is an awe inspiring location filled with wonders of nature, and to fly over it is simply the best way.
Click on this link to see the photos!
---
My family took a 10-day flying vacation in my Skyhawk. This was our first cross-country flight taken as a family and came just a week after earning my Private Pilot's License. We started at Slidell, LA and then flew to North Carolina to enjoy many sites and family at home. The flights in Lakefront International in New Orleans was in support of the Ulster Project, flying kids from Northern Ireland. Really enjoyed that!
Click on this link to see the photos!
---
A slideshow of the Heber City and Salt Lake City, Utah area. These were taken during Thanksgiving of 2006 while visiting a good friend from my college days and his family.
Click on this link to see the photos!
---
A slideshow for a flight over the mountains of Western North Carolina. It shows Lineville Gorge, Mount Mitchell, Grandfather Mountain, and Banner Elk ski slopes.
Click on this link to see the photos!
---
Here is a link to a slideshow of a recent flight over Yosemite National Park. It features El Capitan, Yosemite Valley, and Mono Lake area.
Click on this link to see the photos!
---
Slideshow link for photos taken on 4 Mar 07 over Lake Mead, western Grand Canyon, Flagstaff, Arizona, and Meteor Crater.
Click on this link to see the photos!
---
Cessna Skyhawk Installations
Rich Murray (Real Old Salt) has rendered a wonderful custom livery for FS2004. This re-paint is in the authentic colors of my own 1977 Cessna 172N (N733CZ). This download is for the Flight One Cessna 172R. You must have already purchased this payware aircraft. To install, put the texture folder into the main aircraft folder and then copy and paste the flightsim section to your F1 aircraft.cfg file. Be sure to change the sequence number of the section to match the sequence of your F1 file.
Also available is the modified livery that works with the default FS2004 Cessna Skyhawk. Installation procedure is the same.
Click here for the F1 Skyhawk N733CZ livery (8.79 Meg)
Click here for the stock FS2004 N733CZ livery (1.35 Meg)
Jerry "Sparks" Beckwith has created a marvelous airfile and configuration file set for the Cessna 172 in FS2004 and it works equally well in FS-X! Because of the differences in the way files are handled, I needed to create a different installer for FS-X from the one Jerry created for FS2004. What they do are to create a Cessna 172N Superhawk folder in your Airplane folder in FS-X and one in the Aircraft folder of FS2004. Just point the installer to the respective main game folder. It defaults to the C-drive. If you installed your game to a different drive, be sure to change the path as required.
Click here for the installer for FS-X (30 Kb)
Click here for the installer for FS2004 (1.4 Meg)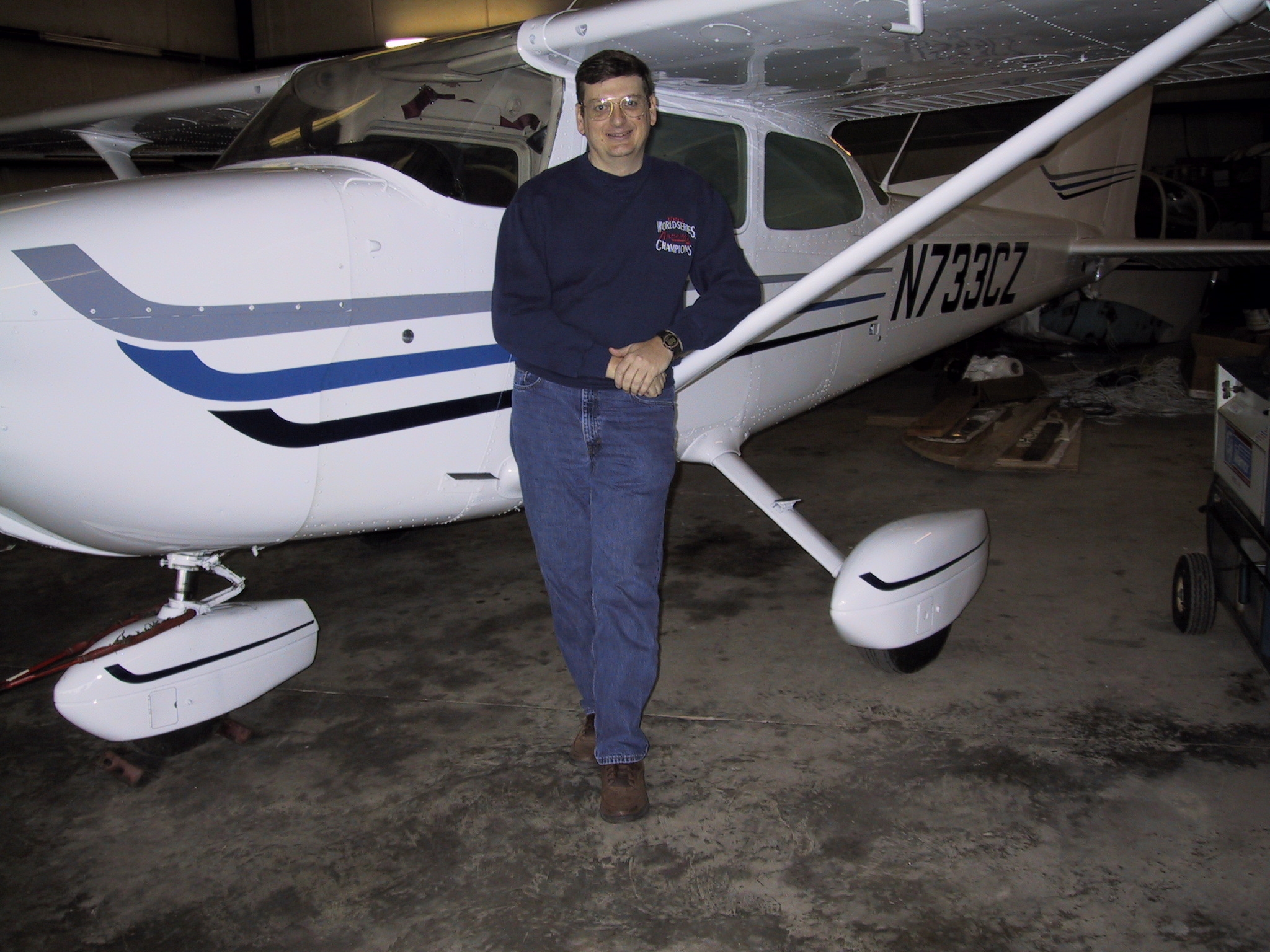 Me standing next to the real N733CZ (click to enlarge)